'What would you like for Christmas?' is a question that makes most of us run a mile.
But thankfully we are here to reveal just how many useful gifts there are on the market to help us enjoy our Jog On life just that little bit more (oh and you can also buy it for other runners too!).
Or why not buy yourself something post-Christmas, with the money from returning all the unwanted bed socks (one pair's enough, right?).
Gadgets and gizmos
Top of the list has to come running watches. If you haven't got one already, consider adding it to your array of lycra. Some people love analysing all the stats post run and find it invaluable for training. Others, like me, just like to monitor my mileage and pace – and time all those Jog On interval sessions.
A particularly popular one each year is the Garmin forerunner 235, or a cheaper version is the Garmin Forerunner 35 (around £100). If you like the idea of streamlining music onto your watch (you'll need the Bluetooth headphones too!) then try the Garmin Forerunner 245 Music one. One of the more expensive options is the Garmin Felix and cheaper ones (around £50) is the Huawei Band 2 Pro for basic GPS tracking and heart rate monitor.
There's also the Apple watch, offering a large variety of run-tracking apps, including Strava and Runkeeper. If you opt for the 4G version you can also receive calls, send texts, emails and stream music through the watch while you run without a phone. No idea why you'd want to do this – after all most of us run to escape social media (and calls from our offspring !), but then I think that maybe it's just our generation!
There's also a number of excellent Fitbits on the market, including the Fitbit's latest Smart watch Versa Lite. You can track different types of exercise from runs, to swimming, to interval training, as well as track steps, heart rate, sleep and water intake. Basically it does everything except make your post run cuppa and hoover the lounge.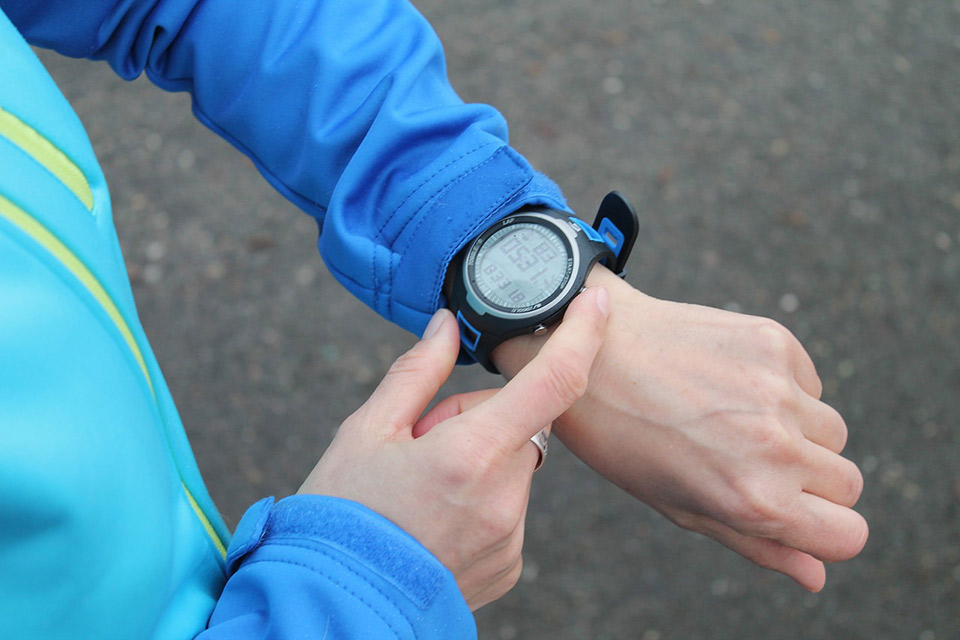 When there aren't fellow Jog Onners to chat to, some of us revert to music or Podcasts (running to the Archers is a guilty pleasure!). They are available with or without a wire, in the ear or over, and with sweatproof options. They differ in price too, from the Powerbeat ones, to the increasingly popular bone conductor AfterShokz Aeropex waterproof ones for around £150, to the Kamtron ones for around £25. If you're thinking of entering races then under the latest England Athletic guidelines the bone conductor headphones are LEGAL in all races, whereas the traditional in ear ones are increasingly banned – for obvious reasons, like if you've ever marshalled a race and tried to shout to a competitor that they're about to be hit by a tractor.
Where to put everything
Our car boot isn't unfortunately always available for your keys, phones, etc, so what to do with them when we're not there?!
Look out for pockets in running clothing, such as in the back or sides of running leggings or shorts (these vary in size, so think about what it is you want to carry and what will work for you).
There's also a large choice between arm bands, hydration back packs, waist packs and my favourite, Flip belts. It's really a matter of finding what works for you, but I like flip belts as there's no bounce and they fit a surprising amount in, including their own water bottles.
Things to wear
Obviously our Jog On gear in white and navy are the 'must have' fashion for 2020 and takes us from day to evening (sparkly dresses only come out at Christmas party!).
This time of the year it's worth also investing in some reflective and light up clothing. There's Provizsports (I love their Reflect360 running jackets). A decent running head or chest torch for running in the dark is a must. See our blog for further information and tips.
Keep warm and stylish too (even we pack away shorts when our legs go purple). There's such a variety, from jazzy leggings – www.Funkypants.eu (they'll have a stall at our Christmas party and will be offering a Jog On discount of 10%) to compression wear to thermals. Kymira sports wear claim that their infrared-emitting fabric converts heat and light, inducing biochemical reactions which lead to a number of benefits, such as increased tissue oxygen levels, metabolism and energy production – still don't hoover the lounge though – shame.
Massage
There's a whole variety of rollers, including the vibrating ones (great conversation topic at parties), out there. There's also massage balls of varying sizes, trigger point massage sticks and shiatsu back, neck and shoulder electric massage items.
For 'at home' deep muscle treatment that promises to stimulate blood flow and heat, providing deep muscle relief and enhancing repair, try Theragun. Prices start at £229. Or for a cheaper version, there's Pulseroll's massage gun retailing at £199.99, or even cheaper are the 'hand held massage guns', available from Amazon.
Or do the tried and tested approach and get a voucher for a sports massage, supporting local businesses and getting a tailor made deep tissue massage (or even a more relaxing hot stone one!). Remember Greg Harvey, Emma James and Laura Dent all offer a Jog On discount and can be personally recommended by us!
Other running ideas
Bibfolio do some handy folders to keep your race bibs in. There are also note books to keep a diary of your training, cookbooks to digest, and a whole array of creams and potions for those tired bits. Or even better, how about a voucher for a pedicure?
Etsy and Not on the High Street do some unique personalised gifts including word art, coasters, key rings, chart savers for each run, medal holders, trainer tags, necklaces and t shirts.
Stocking fillers
Who doesn't like an adult stocking on Christmas day (or a plastic bag in our house)?! Ideas include sports jelly beans, reflective strips, socks, Body Glide or Udderly Smooth to help prevent chaffing, parkrun wristbands or a plastic card with your bar code on, or even a parkrun t shirt.
In return for all this inspiration we'd love to admire any new additions at Jog On, so please share after Christmas and we'll add the appropriate 'Oooh lovely'.
One final plea – do try and support our local High Street Shops – it may be tempting to order on-line, but we all know what a hassle it is when the package arrives and you realised you've ordered a AGE 10 CHILDRENS TOP instead of a size 10 and it's Christmas Eve… Berkhamsted Sports Shop and Acorn Pharmacy are both great supporters of Jog On and offer far better customer service, with a smile that your computer screen never will.
See you at the parkrun on Christmas morning with all your new gear – if you've been good this year of course…