Written a decade ago for the Sunday Times Amateur Sports Writer Award. The good news is it won, the bad news is the prize was presented by Jimmy Saville!
Heather Harris finally gets a place in the BUPA Great North Run
5,009th – not exactly the stuff of podiums and national anthems.
Does anyone ever remember who came 5,009th in a sporting event? Unlikely, but it was a personal best and I got a T-shirt. Not bad for a daffodil. (I was running for Marie Curie Cancer).
"At least you were in the top 10%," said my Accountant husband helpfully on my return from the 2008 BUPA Great North Run. My children repeatedly muttered something about 5,008 people all overtaking me. But then, they have never got over the shock of me training for seven months for the London Marathon and not winning.
"What do you do it for?" my over competitive eight year old had asked as he rifled through my Flora London Marathon Finishers' Bag, complaining bitterly that I'd eaten all the food, leaving him with "boring leaflets and deodorant".
That was three years ago when I first decided that putting one foot in front of the other for hours on end couldn't be THAT difficult. And it WAS for a good cause. My twins had been born prematurely at 24 weeks in 1995 weighing just a pound each. As these little frog-like creatures clung for life in their first four months I vowed to run the London Marathon if ever they reached 10 years old.
A decade later on New Year's Day, waking up with garlic breath and only one contact lens, my husband (again displaying his gift for numbers) reminded me that this was THE YEAR.
I found a grubby tracksuit festering in a gym bag from the previous January (an annually made, annually broken Resolution) and I started on the road to becoming a bona-fide runner.
Initially as people overtook me smoking a cigarette or wearing loafers, it was an uphill struggle. I was wired up with enough gadgetry to get me to the moon let alone round the block. Watches that worked at a depth of 3,000 feet in case of a heavy downpour, pedometers that measured each stride and heart monitors that checked each stride wasn't going to be my last.
But none of it helped – what I lacked was motivation. I was brilliant at the fund raising. Soon I had roped in everyone within a 26.2 mile radius of home to sponsor me and had passed my £3,000 target with ease. It was just the running I hadn't mastered.
And then I discovered a Running Club.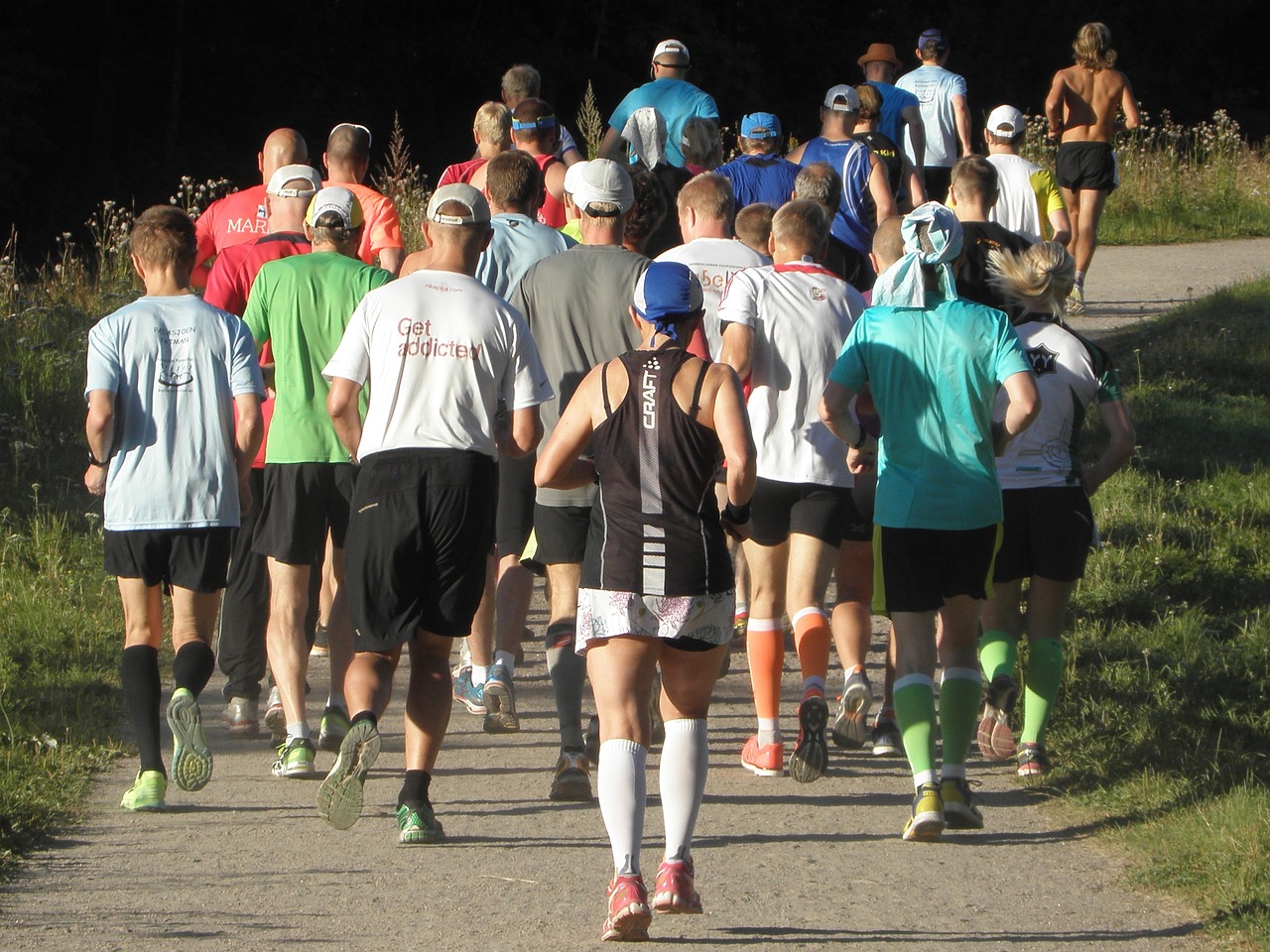 Who needs coffee mornings or dinner parties when you can run along a windswept towpath for three hours with a group of women and TALK the entire way? I discovered a readymade social life. And it was free. As the conversation ebbed and flowed along the canal side covering topics from world politics to the relative merits of organic veg, so my cardio vascular strength improved and my endurance increased.
A man joined us once and made solitary grunts at the beginning of our run and at the end some 18 miles later. He never came again. Another turned up with an i-Pod – in those days the size of a house brick and carried in a bag the size of a hod. He was banned.
Soon I'd got all the classic symptoms of 'Runners Bug'; a Running magazine by my bed, not one but TWO pairs of training shoes, a cupboard full of Isotonic Sports Drink (sugared water by any other name) and a bread bin full of energy giving bagels. My husband complained I smelled permanently of Deep Heat and peanut butter (the latter being essential protein and easier to carry for the end of a run than a free range chicken). I even invested in those special carbo loading gels which taste like wallpaper paste and cost the equivalent of seven bars of Dairy Milk.
And I didn't just do one London Marathon but three…and Luton twice. Friends and family automatically assumed I wanted sponsoring whenever I phoned and local shopkeepers hid as I approached with yet another 'invitation' for them to add to my charity coffers.
There were some major low points – being overtaken at 23 miles by a man in a Pepperoni outfit (presumably running for Sausage Eaters Anonymous) in the 2007 London Marathon and negotiating a soggy slalom of chip papers and half eaten kebabs in the wind and hail of the 2006 Luton Marathon – the detritus of a wild night in this Bedfordshire town. Then there was the 2008 Silverstone Half Marathon when I was beaten by my younger brother whose training regime had consisted of intravenous cider, twice weekly curries and an average of three hours sleep a night usually not in his own bed!
But there were also so many highs – the end of my first 10k when I kissed a stunned marshall on the finishing line and full on the lips: and winning our first Woman Vets Team event (my daughter was frantically looking for any sick animal to save in order, she thought, to qualify). Oh, and getting a letter from BLISS, the premature baby charity telling me how many babies my £5,000 had saved.
And then there was SUNNY Newcastle 2008 (surely the clearest example yet of Global Warming). Like the 5,008 people before me, I knew the coast was waiting for me at the end of the BUPA Great North Run.
It was the first time I'd managed to get a place in this iconic event. I had previously watched it on television and dreamt of one day sprinting up that hill at 12 miles to be greeted by the salt on my face, the sight of the sea and the microphone of Sue Barker.
But for once reality was even better than the dream. Running in my Marie Curie yellow vest and bobbly daffodil petal antennae – looking every inch the professional – I had found the race far harder than I'd ever imagined. It could have been the fitful night spent in the Durham University digs the night before, waking up every hour convinced I'd miss the 7am transfer bus. Or the two hours standing around waiting for the start in my Mum's knee length nylon cardigan praying I didn't bump into Welsh heartthrob Gethen Jones or become trapped between the Olympic thighs of Chris Hoy.
It also didn't help that in endeavouring to read everyone's charity vests – some poignant "Running For Sophie Died Aged 8", some funny "Behind Every Good Man – There's Me" – I repeatedly tripped into the path of my fellow runners. (Long distance running is surely the only event where competitors are constantly apologising to each other for everything from spilling water and nose clearing to inadvertent elbowing and heaven forbid – overtaking).
I wondered if Paula, the Kenyans and all those other elite runners displayed the same level of etiquette, "No after you, Ms Radcliffe. I insist"
Each mile marker seemed suspiciously further apart than the last as I staggered past the steel bands, rock trios, Elvis impersonator and numerous children handing out Rich Tea biscuits (a nutritional first in my running career).
Realising the salt in my mouth was sweat rather than the anticipated sea breeze, I battled on convinced that I had misread the small print and for people whose initials were HH, the race was extended to a full Marathon.
My well rehearsed strategy of looking down at thousands of pounding feet rather than up at the long and winding road ahead seemed to work (along with counting backwards from 50 in French and swearing). And as their tempo slowed and my thighs burned, I realised we were going uphill and as all of us runners know only too well – 'What goes up…'
And there it was – all at once – a 12 mile mark, a roundabout, a cheering crowd and mile upon stretching mile of sea. The actual sea. The same one that I'd seen on the TV all those spectator Sunday mornings before but this time I wasn't in my pyjamas but a daffodil vest.
My sprint finish was 50% there – I finished but not exactly at high speed. The 5,007th and 5,008th competitors overtook me, as did vanity, as I slowed to smile for that all important finishing line photo, thus avoiding the pained grimace with which I finished my first Marathon. I have lived ever since with that image hanging as it does in our downstairs loo.
And that was it – all over. I'd done the race, got the T-shirt, texted my entire telephone contacts book announcing my 1 hour 46 minutes time and thanked every other competitor, marshall, spectator and disinterested beachcomber who happened to be passing.
But like childbirth – there's a secret that no-one else tells you about this wonderful life changing event – and that's how to get out of Newcastle.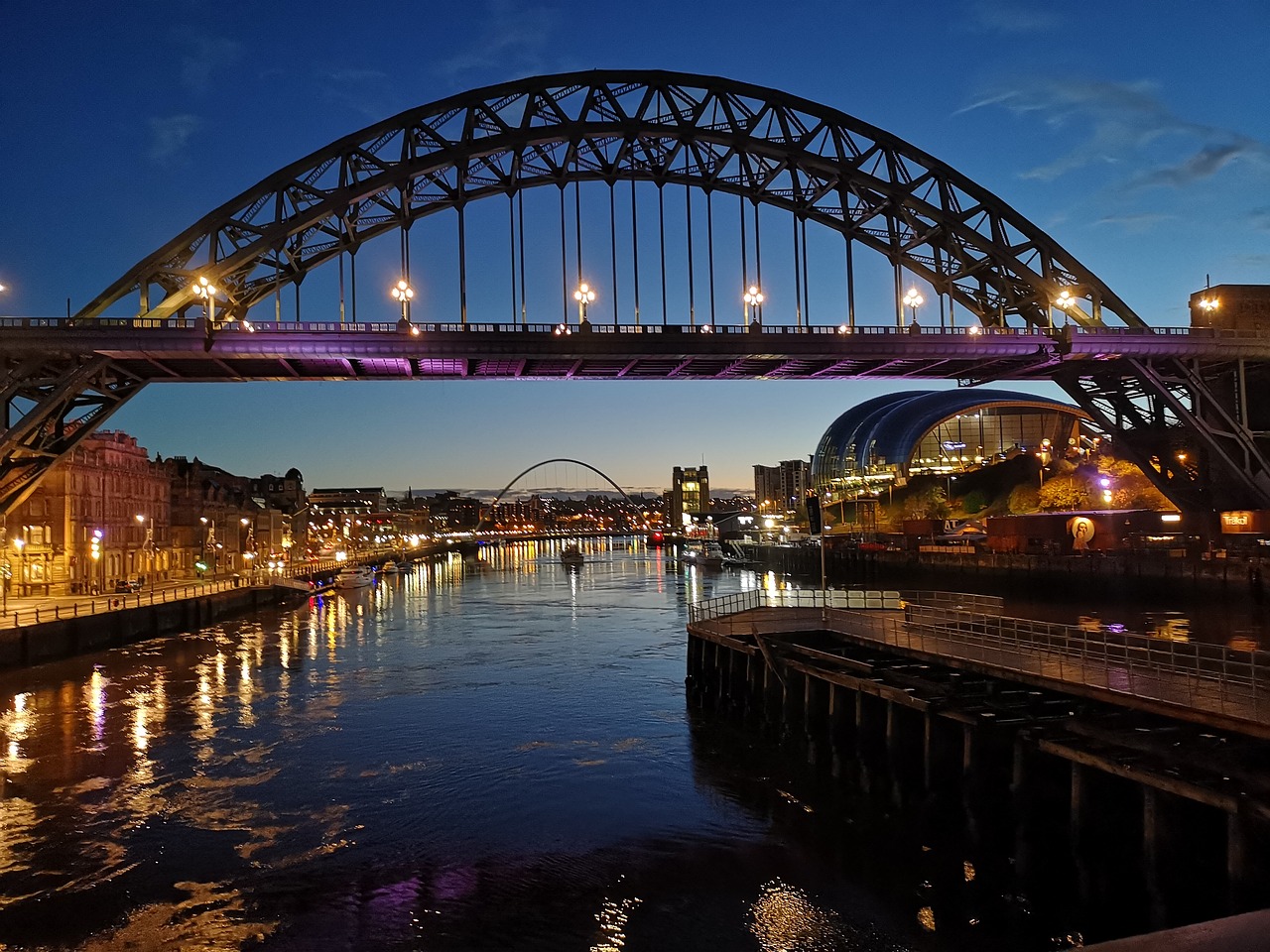 It was easy on the way in but then 52,000 people weren't all simultaneously trying to get home for a hot shower and a peanut butter bagel. Ten and a half hours later, my antennae petals wilting, I staggered into my driveway on a rain lashed Watford night.
"It would have been quicker to have run home!" observed my ever supportive husband – once again displaying all the tact of Prince Philip.
"We didn't see you on the TV" said my kids, "You must have been really slow"
5,009th – I replied and burst into tears.